Wow, it's nearly October. Or should I say Rocktober? You know the month will rock you like a climate-change-induced hurricane.
Let's get right to the rock. And the tober.
Monday, Nashville band The Medium is at MOTR, with Nave Netoow opening. Here's the promo photo of Nave:
Note to self: if Nave offers a carrot/orange smoothie, politely decline.
On Tuesday, Yung Gravy is playing Bogart's. He's a rapper from the hip-hop hotbed of Rochester, Minnesota. After watching one of his videos, I can't figure out if he's serious or if it's an Andy Samberg short from SNL.
You can chase that Gravy with some Catfish, as Catfish & the Bottlemen are at Bogart's on Wednesday. That same evening, Church Girls are playing Urban Artifact, with Soften and Fycus, and Lee Ann Womack is at Memorial Hall with Sarah Siskind.
Thursday, Mt. Pleasant String Band plays the Southgate Lounge, Blackfoot Gypsies hit Madison Live, Bam Powell performs solo at Latitudes, Cody Johnson is at Bogart's, Mynah Tones play MOTR, an Eagles tribute band (The Eagles Project) is at Memorial Hall, and Ben Levin will be playing the "Top of the Park" rooftop at the Phelps Hotel.
Plenty o' music from which to choose on Friday:
the Adrian Belew Power Trio plays Ludlow Garage with Saul Zonana
Sublime with Rome is at Riverfront Live
Com Truse plays Madison Theater
Dead Centric is at Urban Artifact
Chris Comer plays The View at Shires Garden
Riverfront Coliseum hosts the Legends of Hip Hop featuring E-40, Mystikal, Scarface, 8 Ball & MJG, Too Short, Bun B and Pastor Troy.
Saturday has a full slate o' tunes too, including the Cripple Creek Music Festival in Fort Mitchell:
The Harmed Brothers play Neltner's Farm Fall Fest starting at 1:30
Jukebox The Ghost is at Madison Theater
Plastic Ants, This Pine Box and the Amprays play MOTR
ghost man on second is at Lucius Q
Ludlow Garage has the tribute band The Dirty Doors
If you're into clean comedy instead of Dirty Doors, Nate Bargatze is at Taft.
Last but not least, there's a free show in Eden park: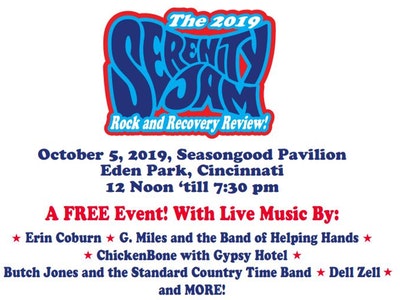 The event is a fundraiser for the Community Program for Recovery, a non-profit that helps recovering alcoholics and addicts living in transitional recovery housing.
On Sunday, Neltner's Farm has a Kentucky Showcase: The Poor Hours, T. Lipscomp, Chris Lloyd, Randy Steffen and Sami Riggs. Luckman Coffee in Mt. Washington is hosting a #LocalFoodRocks event from 4-6 p.m., featuring local food and local bands BackBeat and Prestige Grease. That evening, Man Man plays Top Cats… with GRLwood also on the bill (let's hear it for Title IX!) and Go Go Buffalo.
Good Reading
Actor Griffin Dunne has a funny story about his former neighbor Ric Ocasek. And there's a great interview with Tommy Stinson of the Replacements in Rolling Stone. Money quote:
Obviously, we wanted to be successful with everything we did. But we also were the first ones to fuck it up half the time. … Most of the time in fact. … OK, all the time!

Tommy Stinson of The Replacements
Speaking of the 'Mats and f-ing up, list member Mighty Joe Sampson ordered the new Replacements deluxe set called Dead Man's Pop, which contains the original Matt Wallace mixes of Don't Tell A Soul (on LP and CD), plus a 29-song live concert recording from 1989, and a disc of outtakes, including some tunes with Tom Waits. Perhaps because Joe is 10 times the Replacements fan as anyone else I know, Amazon sent him 11 copies, not 1.
Joe even contacted Amazon to alert them of their $600 error, but they told him to keep his bounty.
It's not like Jeff Bezos needs the money for alimony payments or anything. Joe was kind enough to gift me with one of the sets. Much obliged!
Hot Ticket Alert
Debbie Harry and Chris Stein from Blondie will be at Walnut Hills High School on Monday, October 7th, with artist/director Rob Roth, for a Joseph-Beth sponsored book event for Debbie Harry's new memoir Face It, along with a "visual presentation."
Grace Potter plays Taft on January 22. Tickets are on sale now.
Concert review
Brett Newski rocked the house at the Parlor & Patio show on Friday. He's a very entertaining dude, and a nice guy to boot. Parlor & Patio has two more shows on tap for 2019, you really should get to one… or both!
Shameless Self-promotion
You'll find a new episode of the 97X Rumblings from the Big Bush podcast on this website, as well as on Spotify, iTunes and Podbean. Dave Tellmann and I chat with "Gentleman Jim" Mercer, the dean of all part-time DJs at 97X.
Have a rockin' month!