It's a rare Thursday night edition of This Week in Live Music, because I want to give you extra time to gear up for the big CK show on Friday night.
That's right, Cereal Killers are playing a FREE show at Big Ash Brewing — on the site of the old El Rancho Rankin Motel — on Friday night!
You know the drill: Cereal Killers play stellar covers of great songs from the 97X era — Elvis Costello, Joe Jackson, X, The Clash, INXS, Guided by Voices, et al. — with some Stones and Tom Petty in the mix for good measure.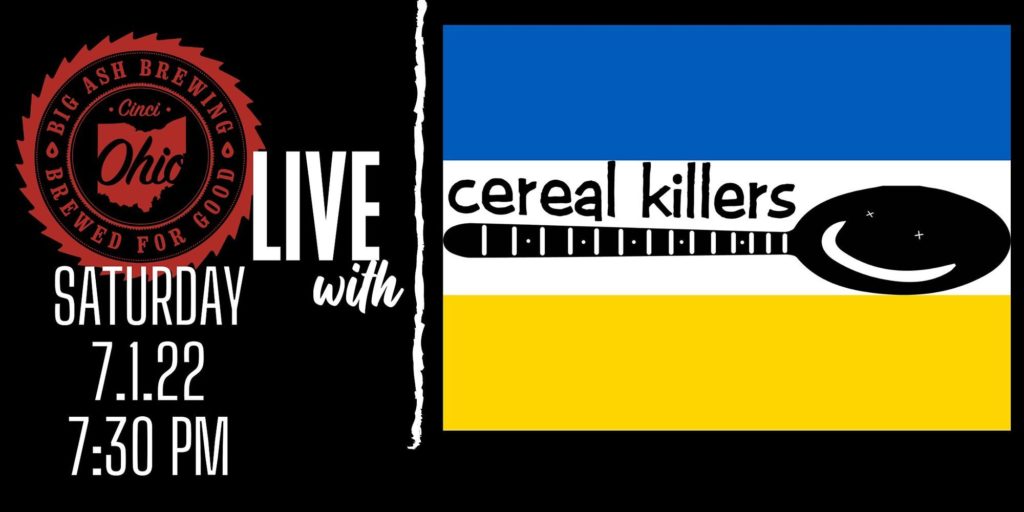 Not only is the show free, but your first beer is free.
Courtesy of your favorite author of a little known, infrequently-read weekly roundup of live music in the Tri-State area. (C'est moi!)
Free Killer tunes and a free beer… a great way to kick off your All-American holiday weekend.
Other free shows tomorrow night include Lilly Hiatt and Heavy Hinges doing the Fountain Square gig, Ben Levin at Wiedemann's, and the Sunburners at Stanbery Park.
The Northside Rock & Roll Carnival takes place at Hoffner Park the rest of the holiday weekend:
Wild Carrot plays Harmony Hill Vineyards in Bethel on Saturday, and Ben Levin plays at Schwartz's Point on Sunday.
Monday is Independence Day – here's your Public Service Announcement:
Monday also marks the official starts of "was that fireworks or gunshots?" season on the NextDoor app.
On Wednesday:
The Psychedelic Furs and X play at Rose Music Center near Dayton
Third Eye Blind, Taking Back Sunday and Hockey Dad play an outdoor show at the Ovation.
Death Cab for Cutie rolls into the Ovation on Thursday, with Illuminati Hotties as the opener. That's an outdoor gig as well.
That same evening:
Noah Wotherspoon plays the Rocking the Roebling free show on the lawn by the Moerlein Lager House (6-8 pm), and the Doobie Brothers play their 50th anniversary tour (a year or so late) at Riverbend.
We are contractually obligated to mention the best 70s sitcom two-part episode ever whenever we mention the Doobie Brothers.
The part where Rerun gets busted is pure gold:
The entire episode is here. Don't act like you don't want to watch it.
Next Friday, July 8th:
Wilderado plays Madison Live. List member Jeff Franco and I saw them the last time they were in town, and it was a great show. I'll probably go to that gig.
Sheryl Crow and Keb' Mo' are at Rose Music Center
China Crisis plays Ludlow Garage
The Brook & the Bluff play a free gig at Fountain Square, with Abby Holiday and Knotts also on the bill
Perpetual Groove is at the old Annie's
Oops, I did it again
I forgot to mention the Ann Wilson show at the Hard Rock last week. List member Michael "Rico" Carrico, whose musical tastes are firmly in the "Sad Dad" music camp, wasn't even upset with me. And the show wound up getting cancelled, so perhaps I'm not forgetful, just prescient.
Cancer sucks. Scholarships rock!
Speaking o' Rico, some of you may recall that he lost his brother to cancer three years ago. His brother Kevin passed away while he was in med school working to become a pediatric oncologist… after he had beaten Hodgkin's Lymphoma as a teenager… a cruel twist of fate which is heartbreakingly tragic on so many levels.
Rico and his family are honoring Kevin's memory by raising funds for the National Collegiate Cancer Foundation to provide scholarships to young adults who have been diagnosed with cancer.  They're hosting the Kevin Carrico Memorial Golf Tournament at California Golf Course on October 1st. Any and all support is welcome, whether that is getting a team together to play in the scramble, helping sponsor the event, donating items for auction or simply donating money.
You can sign up or donate here.
More turning lemons into lemonade
Through the blog of a comic strip artist (yes, I'm that guy), I read about the passing of a woman who was part of a husband-wife team that hosted house concerts in Pittsburgh and supported local music. The woman's published obit included this request:
In lieu of flowers, donations, food, whatever, please honor Deb by gathering some friends to go out for a beverage or meal, and leave your servers a huge tip in her memory. While you are at it, go see some local music, fill up the tip bucket and buy a CD and some merch.
Amen!
Remain in Light Kentucky?
List member Lisa Collins has deep roots in the Maysville, KY area. Recently she went to a book signing by Chris Frantz (Talking Heads/Tom Tom Club) in Old Washington, KY. From Lisa:
His grandparents restored the Harriet Beecher Stowe house in Old Washington in the 1960's and he spent his teen years summers in Washington and Maysville. He and Tina Weymouth got married there – his talk was on their 45th wedding anniversary.
Former Screed 'zine creator Terrence Burke also was there with his son and got pix with Chris and Tina:
Chris' book is called Remain in Love. It's a decent read.
Album Cover of the Week
Yanking those suspenders qualifies as elder abuse. OTOH, playing old timey banjo tunes to a little kid qualifies as child abuse. Let's call it a draw instead of calling 241-KIDS.
Have a great week!